National Nose Day 28 September 2010
Are You Picky About Keeping Your Nose Clean? Do You Clean Your Nose Every Day?
Today sees the launch of a new web site interneti.co.uk designed to promote a better quality of life through the practice of nasal irrigation.
Nasal irrigation provides relief to the millions of people who suffer from conditions such as congestion, rhinitis, sinusitis, hay fever, coughs, colds and headache. It improves sleep, helps stop snoring, decreases stress and reduces the need to use medication such as antibiotics and nasal sprays.
It has been revealed in a recent survey conducted by British Snoring & Sleep Apnoea Association that only 4% of the UK population irrigate their nose regularly.
There are many ways to irrigate the nose but using a neti pot with a saline solution is the most popular. Nasal irrigation is simple, safe, effective and takes no longer than brushing your teeth. From the survey, 90% of people said they would irrigate their nose now they know the benefits.
By celebrating National Nose Day we hope to change people's attitude to their nose and promote nasal irrigation as a route to better health.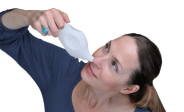 Do you know what a Neti Pot is?
Would you like to receive our most current information and offers by e-mail? Enter your e-mail address here to sign up.
Most Popular Solutions